Bundle of Rights: Home buying
gives you rights you need to know.
Bundle OF Rights - Home buying gives you not only the rights 
---
---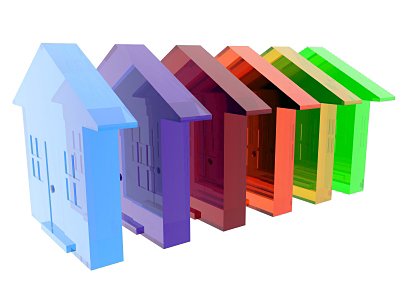 to live in a certain address to call home, as you would expect - but it also gives several other rights you need to know.

Ownership of real estate is a much more complex composition than simply acquiring the rights to live in it.

It is useful to imagine a "team" that can be separated and reassembled.

Some of the players may not be present for a while, let's imagine a
basketball player that is out for a foul play but the team is still in the game… The team still can still be viewed as "whole" and it still functions.

Later, after the suspension period, that player can come back and be reunited as he had never left …and the team is whole again.

reunited as he had never left …and the team is whole again.
Similar thing happens with ownership of real estate: you have a "bundle of rights" (the "team"), if "temporarily one is out" all the others remain in place at your disposal.

That "missing right" can always come back to you.

---
Know Thy Air Rights
Air rights valuable for those who know its value
Mr. Donald Trump is perhaps the best-known person for being able to maneuver the "air rights" for the advantage of his projects.

Mr. Trump is a polarizing figure but his knowledge of the air rights made him a legend and a billionaire in the process… More power to him!
He has several books out detailing some of this thinking and dealings. All make for fascinating reading. And I would even add: If you are a young lawyer, investor, or entrepreneur in all walks of life, you owe to yourself to read some of his books.
Fascinating stuff!
As I expressed else where, air rights are just but one of the many rights you acquire along with the purchase of your home:  For more info please take a reading my page Air Rights. Please click here
---
---
Property: A Complex Subject

The truth of the matter is that "property" in general is a complex subject to explain…

Add to the mix that a property can simultaneously be "owned" by multiple parties.

The bundle of rights is a common way to explain the complexities of real estate ownership.

This is a way to organize confusing and sometimes contradictory data about real estate.

OK! Now let's see if we are on the same page on what is "real estate property" and what is "personal property"

In many instances "personal property" has the same attributes of "real estate property."

Oh, but there is "one" fundamental characteristic that alters the whole discussion: real estate property is immobile

If you buy a house downtown Atlanta GA, my home town, you cannot take it to Miami Beach… You have to "enjoy" it [which is one of the rights of ownership] right where you got it.

On the other hand, if you buy a car, you could vacation with it in San Diego, California… and "enjoy" the ride all the way through

---
Real Property Comes With Rights Other Properties Lack

Bundle of rights are all rights a person can have in real property.

Included in the bundle are the rights of:

Possession – it gives you the right to occupy the property and have a way to come in and out.

The one who holds the title is the legal owner of the property.
Now that you now a bit more about the bundle of rights, you know the reasons behind my recommendations on the entry "Sole ownership X Joint ownership" on my page "OwnershipType" – please click here to read it

---
Control [also called the right of "use"] – within the laws, you, the owner, control the use of the property.

You can make a profit from you property, remove objects from it, build on it, farm, drill or mine it, lease to other, you may exclude other from it, mortgage it, license to others…

Phew, that alone would explain why it is called "bundle" of rights!

---
---
Enjoyment – you can enjoy the use of the property in any legal manner.

You are assured against undue interference from other nuisances from neighbors (including this dog of my neighbors that is "killing" me with his barking while I am trying to concentrate and write this page…)

The enjoyment also encompasses rights over adjoining land like light, water, air and lateral support

---
Exclusion – you also have the right of exclude others from using or entering the property… have you ever seen a little sign "Posted?"

---
Disposition – I always tell my home buyers "sooner or later you will have to sell the house [or dispose by other means] – well you can sell it, give it away [hey, think of me!] or pass it to your heirs whomever they may be.

As you could see on "Possession," above, ownership of real estate property is holding "title" to it.

And the evidence of that title is the deed, which is recorded on the county's court house.

When you sell the property you will execute a deed to transfer title to real property and the bundle of rights that go with it to the new owner.

At that point you would have lived the whole circle of the bundle of rights.

Unfortunately this experience it not true to all places on earth and we should be thankful for the rights we got.

But the "bundle of rights" do not stop here; real property ownership gives you so many rights.

Although I do not intend to elaborate on them all… but let's see some more, shall we?

---
---
There is more to the real estate "bundle of rights:"

Theoretically, when you own a piece of land, it comes with all that is under the ground all the way to the center of Earth if you go downwards …And if you were to go upwards, it will go to "infinity." [Please entry "Air Rights - A Tidy bit deeper look on one the your rights" below]

I say theoretically because sometimes it is impossible to enforce it

---
Mineral rights - however when it is practical to do so, it can amount to good value: wherever oil and gas is discovered people who own that land get a piece of the pie just for "leasing the mineral rights."

I am quite sure that if you live in a subdivision you cannot start a mining company on your back yard… but you "potentially" have that right.

---
Water rights – in the western part of the United States this is a well regarded "commodity"

Even in a subdivision you could – within reason – dig you own well.

I lived in a "non subdivision" home where I had some neighbors who had their own well: they had never been connected to the city's water. …And why should they: It was one the best water I ever drunk. Free and superior than the city's!

I all in the thick of one area that is considered among the nicest neighborhood in Atlanta.

---
Air rights - In my hometown Atlanta, we have a sprawling metropolitan area where the majority of us still prefer to live in a "detached home," air rights is something "nice to have" but no body talks about it

However in "high density" areas like New York City where "building out" spaces, where they still exists, is at a premium - than the "building up" realizes its full potential and becomes a coveted piece of "real state."

"The" Donald Trump perhaps is the best known person for being able to maneuver the "air rights" for the advantage of his projects.

Mr. Trump is a fascinating figure and his knowledge of this facet of the bundle of rights made him a legend and a billionaire in the process…
More power to him!

---
---
Wrapping up thoughts on bundle of rights

Although the rights of "possession," "control," disposition and enjoyment are present in all forms of home ownership types, the other parts of the bundle of rights are not so well abundantly shared as you move from one type of home ownership to the other.

It is important to point out that "detached home" - whether you are home buying is going to be in a subdivision or not, a detached home is not the home ownership type that offers the most freedom on how to use your property,

In a detached home you may enjoy 100% of the bundle of rights all by yourself – and your family…

In a Town home it is a bit more restrict and you also will have to share some of the same rights with you neighbor next door.

In a condominium you would be more restrict still you probably will have a percentage either based on the number of units or the square footage.

A co-op gives you less of the rights because you just "own" shares of the co-op

Well, I think that for a website that is dedicated only to the practical side of home buying, this has been very technical page.

Hope it did not give you headache : -)
As a reward for reading this long page up to the end, let me inform you about other right you have: Getting "Free Credit Reports" – please click here
---
Visitors' Corner:
Share YOUR Tips,
Comments And Questions
Now it is YOUR turn: Please give us your input!

Do you have some great comments on this topic you would like to share? Any question burning on your head? I would love to publish

YOUR Bundle Of Rights Story / Tips
Share it here and now! No membership required. No signing in bugger here. Anyone can contribute.
Yes, even professionals in the field – lawyers, social workers, mortgage consultants or even other fellow real estate agents!
Everyone is welcome: Just open your heart!
I'd love to hear from you – simply click and follow instructions below
---
---

---
JC Fagundes, Head Broker
EQUAL SERVICE TO ALL.
Residential. Commercial. Investments.
Ph: 404 801 4141

---
---
HomeBuyers-Hub

›
Ownership
› Bundle Of Rights