Home Buying Comps: The Nitty-Gritty
Of Your New Home's Value
Home buying comps: The nitty-gritty of your new home's worth.
---
---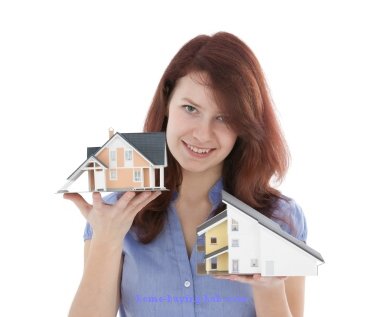 Armed with information of actual recent sales in the same area is the most accurate way to determine the value of the home you are about to purchase.
I work with many people who think they can "pull a price out their hats."


They [or you!] even can buy a property that way but it is just rolling the dice – and "the market value" of the house still have not been established.

You actually may be paying too much or you may risk loose a good house just because you are "flying blindfolded" and put an unrealistic low offer.

Real estate has some logic to it. Even in though times as we are in now.
House buying follows a very steady – almost scientific – pattern of the market place.

You may say – "but the market is crazy right now, prices continue to fall" ...so I will push it [down] as far as I can.

And that is exactly the point I want to make: When prices were going up – that is what everyone was doing! ...Only in the opposite direction

Home prices are market driven and every house sale is a matter of public notice. Once it is sold and recorded everyone can assess the county's record and take a peek what that house was sold for.

So the house buying comps will be able to provide the statistical facts for whomever put their homes up for sale or who is trying to buy in that particular area.
Your REALTOR® will provide you with a set of home buying comps, this is an invaluable information.
I highly recommend that you hire a REALTOR® as soon as you start you home buying process.

However, if you are not working with an agent, then take a look at Trulia and/or Zillow websites to give you some ideas on what is going on.

A note of caution – please use those values just as indicators not a final price as may not be accurate.


---
---
Home Buying Comps

There are three important factors that will validate (or not) the home buying comps:

1) Location – home prices are always a function of location. And so will be the home buying comps.

One can build identical floors plans with all being equal, same square footage, exterior material and interior package like trimming, flooring, appliances etc and only build them in different location. Their price will dramatically different …it can be to the tune of $100,000's

No wonder in real estate we use the expression: "location, location, location"

All the preceding items being in place, there are other factors that will also influence the home buying comps like:

2) Recency - The home buying comps must be recent to be relevant.
That will give the "pulse" of what people are willing to pay for a home in that area, in that point in time.

Ninety days or less is the best. From there on, each month that goes by, some adjustments have to be made to evaluate your comps

3) Proximity – House price do compare to similar houses in the same area. The closer the better! In the same subdivision -- best! Or same building or complex if your home buying comps relates to a condo.

Then ½ mile to a mile away. If you go further than that, other calculations must be put in place to keep the comparables relevant and "scientific."

All the preceding items being in place, there are other factors that will also influence the home buying comps like:

---
Square footage – this is almost self explanatory, however I would like to make this observation: Sometimes you have the same number of baths and bedrooms and the remaining of the property almost equal however you may have a significant square footage between the comps… well those "same" rooms were built to different sizes.

I do not know how many times I get description of properties that, on paper, look alike. When I visit them, one is so cramped and the other feels much more spacious and open.

Condos and town homes are notorious for that.

---
---
Material – by and large brick offers a better value. A four side brick home will command more money than the other alternatives.

---
Number Of Bedroom – This is one of the most important factor in the price of a home. A 3 bedroom house tend be better valued than those with two and from there up.

It still does not cease to amaze me that in a condo, the addition of one bedroom almost doubles the price.

A trend that has been taking hold lately is that buyers tend to look for homes where there is a sitting area attached to the master bedroom.

---
Number Of Bathrooms - this is one of the factors that highly influences what establishes the home price.

An extra bathroom adds a good value the property… even a ½ bath is always adds up.

---
Upgrades - as times go by, consumers change their tastes… Here are just some of the recent trends:

Open Concept – nobody wants to be isolated in the kitchen anymore, while everybody else is having fun in the family room. An open concept is a must!

Stainless Steel - appliances took the world by a storm. Nobody wants anything else…

Granite Counter Tops - both in the kitchen and, if all possible, in the bathrooms as well

Linoleum - used to be an OK thing back in the nineties, nobody wants the thing anymore

Separate shower and tub - people used to be happy with a tub/shower combo – now they almost demand them to be separate.

If you start with a home that already have been upgraded, your are in a better footing when you resale it. Any of these items that you do not get now, you most certainly will have to put in yourself – please consider it very carefully!

It may mean $1,000's out of your pocket and lots of work for you to do, or, if you do not do the upgrades, when you eventually sell the house, the home buying comps will be working against you…Ouch!

---
---
Basement - is it important for you? Just do not buy more house than what you reasonably need – remember there are expenses related to it coming soon…

Naturally a finished basement is preferable or you have to compute in your budget the cost to finish it. Please make sure it is stubbed for a bath, without it I have my reservation of how much a basement will weight in the home buying comps… except to "store stuff"

---
Garage - Once you get used to park your car in a garage you will never be the same – you will always want it.
I just do not get it when people fill up their garage with all sort of stuff and park in the elements… well, as they say around here "different folks, different strokes!"
A garage is always a feature no one complains about it. Two cars garage is even better

---
Yard - Level is preferred. I do not like when it is below grade which means the water will run towards your lot…

I had one house like that once – it was a constant nightmare that I came to regret.

I really do not know how much it weights in your total home buying comps, however this is something that I now look closely when I visit a property.

Please pay close scrutiny to this detail – rainwater always should run away from the foundation of the property.

If not, it will require a constant "house keeping" from you, to make sure you are not flooded and/or have damage to the foundation of the property. These are two things that do not go together: water and foundation of your house!

It will affect your living there and the resale value when you come to it.

---
---
Flood Zone - Always ask your REALTOR® to double check it for you even you are buying a condo – it can effect your parking situation… It is not fun to find your car floating after a heavy rain.

Neighborhoods all across the country are mapped for their likelihood of flood. Some areas are easy to spot they might flood, other do not.

Please make sure to ask this question!
Places have some interesting rating like 100 years flood …200 years or 500 years flood – which means at least once on that many years, the subject area will get flooded… Keep in mind that it is possible that in those many years it can be missed …or have a flood more the once. : - (

As recent as the fall of 2009, Atlanta area got some rain that nobody alive had ever seen… We came soon to learn why: We had hit the BIG one! Yep! The 500 years flood!

It was unreal to put it mild. The flood of so many basements was unheard of… Some neighborhoods will never be habitable again.

Bottom line is that if there is a possibility of flood – I would like very much for you – please - think twice before buying a property!

---
Street - Type of street you are looking at, definitely effects the value and your home buying comps will show it.

A busy street tends to carry less value than a secondary, calm one. Cul-de-sac is more value even if you comparing prices in a closed in subdivision. People are willing to pay a little more to have that quite setting.

I think that I have touched the most important points and you now have a clear idea to evaluate what might affect the value of your new home at moment that you are buying and in the future when you will resale it.

There is an old real estate adage: "You make money when you buy the house, not when you sell it."

Study your home buying comps with care. Give yourself some time to do it -- do not rush -- before you make your decision: do not over pay but, on the other hand, please do not low-ball a good house - without the proper information.

If you read this far, you now have the "scientific" knowledge to make a wise decision.

The best of luck!
Now that you learned so much about home buying comps, you may be also interested in reading my "Price Process" page
---
---
---
Visitors' Corner:
Share YOUR Tips,
Comments And Questions
Now it is YOUR turn: Please give us your input!

Do you have some great comments on this topic you would like to share? Any question burning on your head? I would love to publish

YOUR Home Comps Story / Tips
Share it here and now! No membership required. No signing in bugger here. Anyone can contribute.
Yes, even professionals in the field – lawyers, social workers, mortgage consultants or even other fellow real estate agents!
Everyone is welcome: Just open your heart!
I'd love to hear from you – simply click and follow instructions below
---
---

---
JC Fagundes, Head Broker
EQUAL SERVICE TO ALL.
Residential. Commercial. Investments.
Ph: 404 801 4141

---
---
HomeBuyers-Hub

›
Process
› Home Comps