Buy Vs Rent
A New Beginning
Buy Vs Rent a new beginning – I began this series from a simple email 

---
---
that I intend to send to client whose attempt to buy a condo was not successful.
I intended to send her some few lines of explanation and encouragement but also I wanted to make her aware that – in the long run – homebuyers come well ahead

of those who stick with rent.
I always make exception for those whose are likely to move on short notice – like those good folks serving in the armed forces.
Well that 'simple email' has now evolved to a series of eight pages – to include one cash outlay chart that details year-by-year what goes out of the pocket of homebuyers and renters …and who keeps that money: You or the landlord.
If you just landed on this page, please take a look below I have links to the other pages on this series – they all complement each other.
I the end of the series I come out still more convinced on my initial conviction that "renting is nothing but paying somebody else's mortgage"
 …with an additional 'profit' for the landlord. :- (
---
Paying Landlord's Mortgage
Or Create Wealth …For You
Throughout this series I have mentioned a client of mine who rented an apartment for 11 years and left form there without a single penny of the estimated $110,000 he paid to the landlord…

When we got to the closing table, the young couple who was selling their house had owned the property for approximately 6 years – about half of the time my client rented the apartment – walked from there with a nice little check for over $66,000 – not so bad, hum?
---
---
Buy Vs Rent A New Beginning
The client that I mentioned above who is now a 'proud homeowner' and he is quickly making up for the lost time.

Here is the breakdown of his monthly mortgage and escrow payments:

      Principal and Interest [P&I]………………. $927.95(*)
      Mortgage Insurance [MI or MIP] …….. $132.25(*) 
      Homeowner's Hazard Insurance ……… $  68.23
      City Property Tax …………………………….. $  22.84
      County Property Tax ……………………….. $ 128.33
           Monthly Payments First year $1,279.60
First of all he bought a spacious home (much larger than the apartment he used to rent) with a large lot in a cul-de-sac located in a historic and desirable neighborhood.
Immediately upon closing my client embarked in 'home improvement' mode. I think that it is necessary to make a distinction between "home improvement' AND 'home repairs/rehab.' 
The home did not need rehab and the repairs were 'cosmetic' – which means he could have lived there for years on end without the need of doing any major projects.
However he decided to update the kitchen, HVAC system and add a half bath in the main floor. All which are also 'proactive' ways of adding value to the home …and consequently adding equity.
I estimate that in the short period he has owned his home, my client has added at least $50,000 to the value of the home – considering the expenses of material and labor (some of which he did it himself) it is a great return on the investment.
(*) Principal, interest …and [the 'darn'] MIP will never go up!
Allow some fluctuation for property tax, property hazard insurance and – if applicable – for HOA fees – but these move more steady and sometimes they can come down a bit …landlords will always up the rent
MI/MIP (Mortgage Insurance Premium) can be removed when he has paid 80% or more of the LTV (loan to value) of the house, which will also further add to his savings.
---
---
Buy Vs Rent A New Beginning – Accumulating Equity Every Month
Okay, I understand that it is not all folks that have the money and/or expertise to do those improvements.

So here comes a reminder: This client moved from an apartment that he rented for 11 years! He left from there with no equity whatsoever!
The mortgage payments of his mortgage (principal & interest), property tax, hazard insurance AND the 'darn' MIP will be $1,279.60 per month for the next year. In this equation the only two things that can go up are property tax and insurance.
The apartment complex had already given him notice that they wanted to raise his rent to $1,350 …so right there he is ahead by more than $70 per month! Even though he did not have much money for the down payment and he has to pay Mortgage insurance for a little while – he is still beating the rental by $840 a year of his cash outlay! Amazing! :- )
A homebuyer accumulates a 'little' equity every month …but in 30 years it will mean a big number!
Besides when you come to retirement age you will have paid your home and you will live there without having to worry to come up with the money every month.
Mortgage Interest Deduction (MID) – allows to deduct from your income tax all the interest paid on mortgages going up to a cool $1 million ($500,000 each for married couples filing separately) – so you have a good latitude to find a nice place to suit your needs and start accumulating some equity to your name as well! ;- )
 For more details on MID, please check IRS Publication 936: Home Mortgage Interest Deduction
---
Homeownership: The Gift that Keeps On Giving!

I am not done yet with trying to get you on board of how homeownership is a tool for creating wealth organically.
Let's revisit the monthly payment breakdown above:
I) At first and up to around the 15 or 16 of a 30 years fix  home mortgage loan most of the payment amount (principal and interest) goes towards the interest
II) So at the end of the first [calendar] year* – just to have an example – the $927.95 moneys will be split the following fashion:
            a. Principal payments: $2,184.39 
            b. Interest payments: $5,239.21
(*) Home was bought in March, so buyer started payment in May because mortgage is paid 'in arrears' = previous month …contrary to rent that is paid in advance, so he will end up paying 8 months for the first calendar year.
III) Please notice that even so, this buyer will have paid – and therefore accumulated - $2,184.36 at the end of a short 8 month period
Here is what a full year will look like…and please notice that 'principal paid' goes up a buck or so every month – which means his equity goes up every month  – like magic: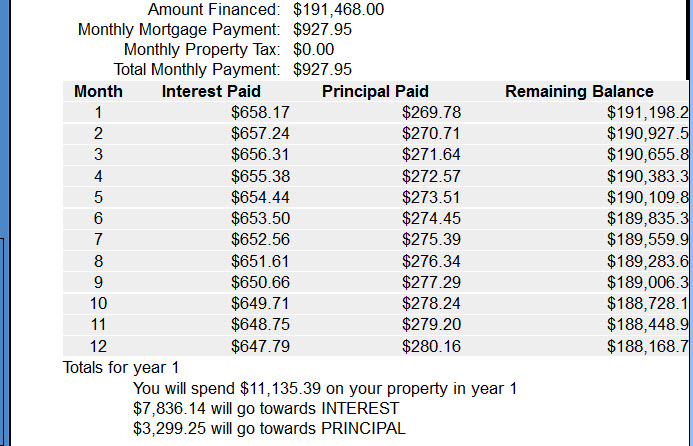 You can calculate monthly payments of any amount imaginable – please visit my Mortgage Monthly Payment Calculator
Please check the other links below to learn more about this series and you will see that a home is an asset that brings returns in more the one ways – like income tax deduction of  ALL interest paid and property tax paid, Home value appreciation, principal accumulation – it is a wealth of information and it makes for a great time investment on your future financial wellbeing.
Cheers!
---
Knowledge Base - This series dedicated to explore the Buy Vs Rent quest is comprised by 8 intertwined articles. I recommend that you further your knowledge by reading all of them - enjoy …AND learn!

Still Need Help Finding What You Are Looking For?
Please Try SearchBox Below For Additional Info Within This Site:
---
Visitors' Corner:
Share YOUR Tips,
Comments And Questions
Now it is YOUR turn: Please give us your input!

Do you have some great comments on this topic you would like to share? Any question burning on your head? I would love to publish

YOUR Buy Vs Rent A New Beginning Story / Tips
Share it here and now! No membership required. No signing in bugger here. Anyone can contribute.
Yes, even professionals in the field – lawyers, social workers, mortgage consultants or even other fellow real estate agents!
Everyone is welcome: Just open your heart!
I'd love to hear from you – simply click and follow instructions below
---
---

---
JC Fagundes, Head Broker
EQUAL SERVICE TO ALL.
Residential. Commercial. Investments.
Ph: 404 801 4141

---
---
HomeBuyers-Hub

›
Buy Vs Rent
› New Beginning