Buy Vs Rent
Creating Wealth Organically
Buy Vs Rent Creating Wealth Organically …For you ...or

---
---
for your landlord.

Each month you pay rent, you increase landlord's equity. Rent is not tax deductible. 
Homebuyers accumulate wealth with each mortgage payment and also receive an array of tax deductions.
Even those who acquire a modest home or condo should expect the market value of their equity more than double in the course of the loan, many studies show. 
 Case in point is a neighborhood called Castleberry - that I know well, here in my home town of Atlanta, GA known for its gone by era industrial buildings that were made into lofts
Back in the middle 1990's you could not give those lofts away… Then many young people started to move in to that area and eventually investors got the wind and started renovating them… today a 900 sq/ft loft sells quickly when priced in the $150,000 range …For comparison, medium price of homes in metro Atlanta in 2014 was $138,100. 
The larger lofts in this area, the ones investors put on some money and vision to create a space with a modern edge can be placed in the marked over half a million dollars or more.
It is important to keep in mind that not all home values raise [or fall] at the same time. So price of homes vary immensely by its location and they are not immune to the economy's ups and downs.
However, different from all other kind of investments it will allow you to 'live in it?'
And by the way, how much will be your cash outlay to rent a decent place? Wouldn't you be happy to keep some of the money you pay every month to your landlord? 
Please see my Buy Vs Rent Cash Outlay page for an eye popping look on your payments towards buying Vs renting a property: If you keep renting, in 20 year and 9 months your cash outlay for a rental would be as much as a 30 year fix mortgage! 
That difference alone is worth over $100,000 that you would keep on your pocket.
That's a super buy Vs rent creating wealth organically advantage in the side of the homebuyers - renters do not accumulate any equity - ever! Regardless of how long they rent ...not even in 10, 20 or 30 years.

My heart goes out to folks who live in highdensity, high priced areas like NYC - they pay rent all their lives and the place will never belong to them.
---
---
Buy Vs Rent Creating Wealth Organically:
Home Value Appreciation
When you ponder on the buy Vs rent creating wealth organically - Home value appreciation is another – very tangible - benefit of home ownership.
Historically home values have risen at or outpacing most any other form of assets …yes, there has been exception periods like the recently one that we have been through ...however, home values have already recover to values before the crises …AND because during the crises new home construction came to a screeching halt, the next 5 to 10 years we will experience a 'shortage' of homes available to keep up with the population growth.
Right now the market is already showing signs of that and most of the 'desirable homes' – especially those that are well built and/or have been well maintained, will sell in less than 5 days.
On my other page Buying-Vs-Rent – Cash Outlay Chart I point out another of my clients who bought a home after renting an apartment for 11 years and he walked away from that place with 'zero dollar' to his name because such is the nature of 'renting'
On the other side of the same transaction, the young seller, who had owned the home for half of time [around 6 years] walked away from the transaction with a very 'nice' check of over $60,000!
That's a solid example of buy Vs rent creating wealth organically.
Please take a minute to analyse the graphic below on price variation for Atlanta area between 2013 and 2014: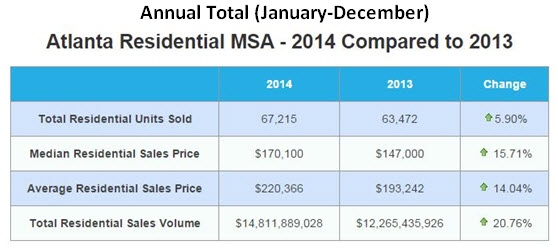 ---
Buy Vs Rent Creating Wealth Organically
Has No Guaranties – Just a Solid Track Record
There is no guarantee that home prices will 'always' go up – the recent housing bubble is still vivid in every adult person's mind …however homes have rebound strongly all across the country: In some cases almost too strongly! Whoever held to their homes have now fully recovered the value of the homes to pre real estate crises of the early 2000's- almost without exception.
A question that has always been on my mind all throughout the home crises is where the folks who lost their homes did ended up living? 
They must live somewhere and pay rent – So you either pay a mortgage for yourself …or for somebody else! And I can guarantee that the landlord will NOT rent to you for less than what he is paying – it there has to be so extra money left in his pocket.
I am glad to say that I have started seeing people coming back into ownership again AND I am proud and happy to have helped some of them to buy their homes again!
If you intend to buy in the North Atlanta area, fell free to give me a holler, I will be honored to serve as your agent …and help you start building wealth organically!
There is a wealth of information by checking the US Bureau Of Labor and Statistics site - they always have updated and reliable data that you can use.
It makes a great 'airport reading' = lots of data to read and 'digest' ;- )

---
---
"But Wait, There Is More" …Savings
There are more ways to  buy Vs rent creating wealth organically will work faster:
a) The Interest paid does not go to waste – In January of each year, your lender will send you a statement of how much 'interest' you paid in the previous year and that will be entirely deduct from you income thanks to a program called mortgage interest deduction (MID) …one thing that government 'got it right' – it is an incentive for taxpayer to plunge into ownership
b) The amount of 'tax property' is also tax deductible

If you would like to ready more about taxes advantages, please visit my page Buy Vs Rent Tax Advantages
Sorry, if you are still renting, there is nothing to deduct – not a penny!
Renters lose every month on the equation buy vs rent creating wealth organically - moneys paid to rent never return to you...
---
Knowledge Base - This series dedicated to explore the Buy Vs Rent quest is comprised by 8 intertwined articles. I recommend that you further your knowledge by reading all of them - enjoy …AND learn!

---
Visitors' Corner:
Share YOUR Tips,
Comments And Questions
Now it is YOUR turn: Please give us your input!

Do you have some great comments on this topic you would like to share? Any question burning on your head? I would love to publish

YOUR Buy Vs Rent Creating Wealth Organically Story / Tips
Share it here and now! No membership required. No signing in bugger here. Anyone can contribute.
Yes, even professionals in the field – lawyers, social workers, mortgage consultants or even other fellow real estate agents!
Everyone is welcome: Just open your heart!
I'd love to hear from you – simply click and follow instructions below
---
---

---
JC Fagundes, Head Broker
EQUAL SERVICE TO ALL.
Residential. Commercial. Investments.
Ph: 404 801 4141

---
---
HomeBuyers-Hub

›
Buy Vs Rent
› Creating Wealth Organically