Home Types -
Detached Home, Town Home, Condo,
Or Co-op: Which One Fits Your Needs?

Home Types: so you are ready to make that plunge? What kind of home will it be? Detached home, condominium, town home or co-op?
---
---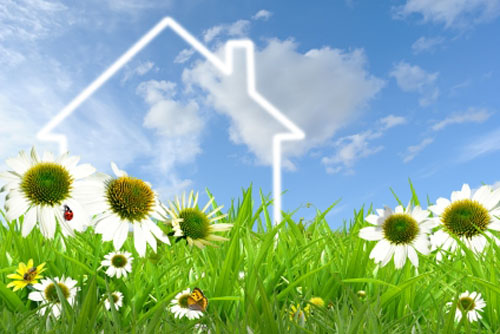 Each type of property offers its pros and cons that I hope you have weighted in or the info in this page will help your decision.

No question that a detached home will offer the most independence on your "home affairs." It also offers you the more space and flexibility on how to use your home.

However... did you think of the maintenance, yard up keep?
How about the "exposure" – everybody knows when you are gone for 24 hours… including the crooks!

In a town home and especially in a condominium building you can be gone for a month and probably not even your neighbor next door will notice.

You would also have the advantage of having the HOA take care of most - if not all – of the exterior maintenance…

What would leave you more time to enjoy other things in life beyond spending your weekend doing yard work.

---
Detached Home

Among the home types this one gives you the most decision power on your "home affairs"

I'd like to start with this one because it is perceived to be the home ownership type that offers more bang for the buck.

And, by and large it is.

Living in a detached home gives more privacy, neighbors are kept at certain distance – and depending on the circumstance and the money you put into it – neighbors are kept at very good distance. For the most part you can put up a fence on your yard without other interfering on your decision.

In subdivision you might encounter some restrictions that you must conform with – please read my entry below and/or "Subdivision Ownership" click here to visit my page with much more details on the subject

You can more easily put a pool in your back yard – and as easily fill it up with dirt if you so desire.

Within reason you can alter the look of the home, paint to your favorite color, put an addition to it, eliminate or combine parts of it or you can add a deck.

When you alter significantly a house, like building an addition, it is a good idea, to get a permit. Actually that is the legal way of doing.

All the while you can do all of this with minimum or no interference from the neighbors.

---
---
Non-Subdivision Ownership
In a non-subdivision home you will have less interference from your neighbors because there will be no HOA to deal with. However less uniformity too: who knows what will go up next door.

I have worked with many home buying folks that would rather bypass the subdivision experience in lieu of more flexibility of what they could do with homes.

And if you will allow express my personal taste: This is my preferred of all home types even when it comes to detached homes.

But you will need to take a good look around because the contrast can be huge… and there is a real estate law that says: "you should not own the cheapest home around …nor the most expensive one"

There is nobody to enforce "uniformity: You can by a nice home but a shackle next door and you have no recourse to change it.

Good sense still has to prevail ..and you can count that your neighbors will be watching

…And – alleluia! No HOA fees!

Subdivision Ownership - "Restrictions May Apply"
A subdivision living is one of the home types that is increasingly popular because it brings many appeals like a swimming pool and tennis at your disposal but HOA responsible for the up keeping of these common use areas

On the economic side, houses will have similarities and therefore home value will be more uniform. Please click here to see my page "Location" page
On the other hand, it does require homeowners to maintain that sense of cohesiveness and it can [and most certainly will] put some restriction on what you can and what you cannot do to your home.

It has to be understood that a subdivision covenant can impose restriction as long as it does not conflict with current laws and it does not discriminate.

Some of the restrictions make sense but others are a bit off the charts: Sometimes even the color of your grass can prompt a call from the HOA.

---
---
Town Home
Town Home is a kind of hybrid, combining different home types: very close to a condominium but not exactly... It has a unique entrance facing the street, but yet it is not a "detached home."

In a town home you still own some of the bundle of rights held individually.

The soil below you and the air above are still under your control.

However in a TH things start to get more out of your hands and toward the collective control of the HOA.

Privacy also slips away as you will have at least one common wall with your neighbors.

You may have a garage or will have to check what the parking protocol is.

---
Condominium Ownership

Living in a condominium you really just can dictate what goes on inside your walls.

All of the common areas will be shared and governed by the CC&R [Covenant, Conditions & Regulations]

And now you have someone living below you, above, to the right, to the left and sometimes to your back… all separated by one common wall


You do own a percentage of the bundle of rights, but, say you are in a building with 100 condos, you own maximum 1% of the decision making.

However the HOA takes care of everything outside your door.

You can travel with ease and nobody know that you are away.

I would recommend that you definitely get in writing the parking situation.

Yes, there are HOA fees every month – but most of it you also will incur in any kind of the home types that you come to choose.

---
---
Co-op ownership
In a co-op – you own the shares and the right to live there - as long as you keep those shares.

This is largely considered the most restricted of the home types.

Because all you own are shares in the co-op. Whoever gets in must be approved and, as long as they do not discriminate, they can be very limiting on who they admit as a "member" of the co-op.

But that is one of the appeals to people who sign up for it.

Co-ops are available in a handful of states.
Now that you have studied the pros and cons of each of the home types - have you checked your credit lately? I have great info waiting for you on my page "Free Reports" – please click here
---
---
Selecting Home Types is but one of the ten most important steps that will lead you to a successful purchase of your new home!
Please follow these links to learn more about the other nine steps:      

---
Visitors' Corner:
Share YOUR Tips,
Comments And Questions
Now it is YOUR turn: Please give us your input!

Do you have some great comments on this topic you would like to share? Any question burning on your head? I would love to publish

YOUR Home Type Story / Tips
Share it here and now! No membership required. No signing in bugger here. Anyone can contribute.
Yes, even professionals in the field – lawyers, social workers, mortgage consultants or even other fellow real estate agents!
Everyone is welcome: Just open your heart!
I'd love to hear from you – simply click and follow instructions below
---
---

---
JC Fagundes, Head Broker
EQUAL SERVICE TO ALL.
Residential. Commercial. Investments.
Ph: 404 801 4141

---
---
HomeBuyers-Hub
› Home Types