HOA - Homeowners' Association
HOA stands for Homeowners Association 
---
---
and it is an integral part of most [if not all] new planned development, like: subdivision, cooperative [co-ops], townhouse development and condominium [condo] complex. Homeowner's associations are organized for the purpose of preserving and bringing improvements – therefore enhancing the value of the homes and quality of life of those living within the community it represents.

Although there can be some associations that membership is voluntary –mainly old developments, in newer subdivisions the membership by a residential buyer is typically a condition of purchase; a buyer isn't given an option to reject it.

In a townhouse development it is virtually 100% mandatory, except, maybe, in much older developments that it has been dissolved or, for some reason, homeowners let it lapse.
In condos and co-ops – given the structure of the building(s) – 'a vertical subdivision'- membership is always mandatory.

---
Power to regulate: Legal Structure Of An HOA
Each of the 50 states does have its own subdivision and condominium laws.

Community regulations will differ widely but, in order to create a subdivision, a town home or condominium complex, the developer will have to take a few legal steps that will determine the legal life of that development for some time to come.

The developer must first comply with subdivision or condo state laws as well as with the regulations of the county and/or municipality where the property will be built.

Then the Developer will record the necessary documents in court house of the county where his / her development will take place.

Here are the necessary steps to make it work legally and fulfill all promises and obligations that are made to the owners when they first buy their homes:
Master Deed
Declaration
Plat
By-laws
CCRs

Rules & Regulation

---
---
HOA Master Deed
A master deed is one of the instrument developers are required to use when transforming a single property into a scheme of individually owned units in multi-unit buildings with shared ownership of the common areas.

It will become the principal conveyance document by the developer of the land where the condominium sits.

It also will contain a description of the condominium units and the common areas as well as any restrictions.

It authorizes a board of directors to administer the condominium affairs and to assess the owners for adequate maintenance.

All unit owners must follow the provisions, rules and regulations drawn up in the Master Deed.
Condominiums also require a master deed of the land and it will include a complete legal description of the entire property.

---
HOA Declaration
The declaration is a legal document that a developer must file and record to formally create a subdivision, town home complex or a condominium under state law.

The declaration will include a complete description of each unit and of the common interest attached to each unit. It also will contain a description of common areas and limited common areas such as parking and storage areas.

The declaration will most certainly have a "statement of uses" as well as "use restrictions."

---
---
HOA Plat
A plat is nothing more than another name for a local map showing details of defined area, drawn to scale, showing the divisions of a piece of land.

A plat of subdivision will be drawn when the developer or, in some cases, the municipality divides land into smaller parcels.

Cities, towns or villages will also have plats [a/k/a maps] that will show subdivisions into blocks with streets and roads.

Finally blocks are split into individual lots, with the purpose of selling them; this has become known as subdivision. Which came to be what we now customarily call any track of land that is "subdivided" into individual ownership.

After the filing of a plat, legal descriptions can refer to block and lot-numbers.

However before a plat becomes legally valid, the zoning board must review and approve it.

A mini subdivision story: I once had a lot of just a whisker shy of an acre that I wanted to divide it into two pieces. Even so a surveyor had to be brought in to take precise measurements of the land and submit the "new plat" of that parcel to the governing body, which needed then give the final approval.

The zoning was R3 which means "residential" and up to 3 homes in one acre. So the neighbors had no say on my decision.

Also it was a non-subdivision area, which made the process a touch smoother too, I doubt that in subdivision setting that thought would have had much traction.

A condominium building also requires a plat of the land along with plans and specifications for the building soon to be constructed.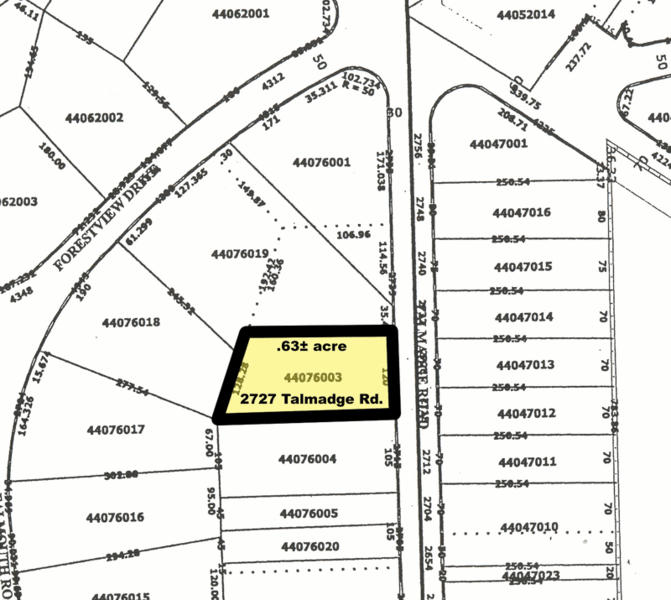 ---
HOA By-laws
The by-laws will establish the framework of what will come to be the owners' association that, in time, will have the responsibility to run the community organically.

By-laws will present the rules of governance and, generally speaking, will lay ground for the internal relations of the development.

The by-laws establish the general responsibilities of the HOA; the voting procedures to be used at association meetings; the qualifications, powers, and duties of the board of directors; the powers and duties of the officers; and the obligations of the owners concerning assessments, maintenance, and use of the units and common areas.

---
HOA Rules and Regulations
This is another set of governing rules that provide more specific details of restrictions and conducts. The Board will establish them. Rules & Regs offer the advantage that they are more readily amendable than the "Declaration" or "Bylaws" would.
Depending on the applicable law in the state you live in, a sets of these rules and regulations will be made available to residents - and potential buyers - through public files or as a matter of public record via a condo or homeowners association website.
Your real estate agent also would be able to attain a copy for you.

As long as no discrimination exist (see below) – they can start with the general laws à the declaration can make it stricter à the by-laws can be made stricter still.

In summary, any planned development will start with the builder that must register and administer the HOA until 75% of the units are sold.

At that point a board of directors must be elected and the board will select the officers.

The board usually presides for a period of one year.

---
---
HOA Politics Can Give You The Blues
Another thing to be aware of when living under an HOA rules & regs setting is the political reality of an owners' association.

Most folks who serve in any board or official capacity mean to do collective good and in general they do. The voluntary work of some dedicated folks, that's why these developments flourish all over the map.

However there are some rotten apples now and then and that's make a huge difference.

It can be nearly impossible to avoid being affected by at least one board decision, so your active participation in the meetings and discussions may be something that you should schedule on your routine so you can also give you input in the community decision and events.

It also pays to be involved on the decisions that may be made in the HOA meetings because they may cost all individual owners more money, but not necessarily deliver equal benefits for all.

One's active participation is part of your ownership enjoyment.

You would be well off attending those meeting and get an early handle of it: ask question, bring pertaining and valuable information, object things you think will not benefit the community as a whole – in other words: make your voice heard.

In due time, be part of the governance body yourself – volunteer for the various committees and/or run for one of offices.

---
An HOA can make your staying in their community an enjoyable experience …or it can make you to repent of ever having a thought of purchasing that home.

So the more you educate yourself about your future home owners association the better you can hedge yourself against future headaches – here are additional "pages of knowledge" that might prove valuable down the road:
---
---
Visitors' Corner:
Share YOUR Tips,
Comments And Questions
Now it is YOUR turn: Please give us your input!

Do you have some great comments on this topic you would like to share? Any question burning on your head? I would love to publish
YOUR HOA Powers Story / Tips
Share it here and now! No membership required. No signing in bugger here. Anyone can contribute.
Yes, even professionals in the field – lawyers, social workers, mortgage consultants or even other fellow real estate agents!
Everyone is welcome: Just open your heart!
I'd love to hear from you – simply click and follow instructions below
What Other Visitors Have Said
Click below to see contributions from other visitors to this page...

Bylaws-no street parking on public roads with no city restrictions on parking

Our community has no street parking in the bylaws, however the city streets have no city parking restrictions on these streets. Can the HOA board …
---
---

---
JC Fagundes, Head Broker
EQUAL SERVICE TO ALL.
Residential. Commercial. Investments.
Ph: 404 801 4141

---
---
HomeBuyers-Hub
› HOA