YOLO REALTORS GA:
GA's Premier 100% Commission Agency
Yolo Realtors GA: GA's Premier 100% Commission Agency!

---
---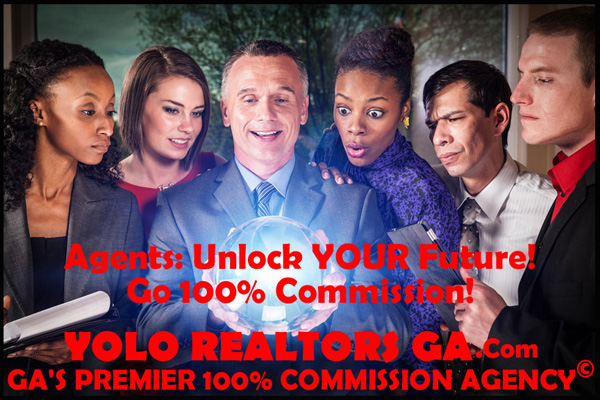 Place your license with us and you will turn 'the commission split' upside down!
 You will keep more of your hard-earned dollars for yourself …AND your family!
 Placing you license with Yolo Realtors GA will mean an immediate infusion of cash to your bottom line and countless thousands of dollars for you to use on your personal and professional life – as well as for your family for year to come!!!
 AND, full transparency, NO! we do not claim to have 'invented' this formula …Our difference is that we are complete overt about it!
 A quick Google search will turn up close to nothing …almost as if 'it was a second thought'
---
Yolo Realtors GA:
GA's Premier 100% Commission Agency - Is It!

Yolo Realtors GA: GA's 100% Percent Commission Agency! Is It!

Because we want it to be our primary business model where our agents / REALTORS to keep 100% of their commission.

Of course, you know that a small percentage is paid to the MLS …but NOT to the agency. That is 'cost of doing business' pretty much as your gasoline and imprinting your business cards. ;- )
 All the business you work so hard to generate IS YOURS!

Take it home! Invest! Spend on your family! Enjoy a nice vacation! Buy a new car! Pay your pets' vet! Hum, I think hundreds of other ways you can use your LARGER commission check every time you have a closing! :- )
---
Direct Access to the Broker
Yolo Realtors GA: The best GA's 100 Percent Commission Agency also offer direct access to the broker not only to ALWAYS  keep you compliant, but also when you need that 'extra set of neurons' to think how to improve your business; to improve tools that might have been working out for you but can be 'brushed up.'
Broker is available to help think and 'improve your game' 365 days a year …no, that does NOT mean 24/7, ha!  :- )
But you got the idea: Your Broker will a partner that you can relay on and will be on your side all the way!
---
Board Optional
We also have our sister agency to accommodate those who are not currently ready to join a board of REALTORS.
No excuse to join us! :- )
---
Interviews Are Strictly Confidential!
REALTORS' Inquiries to our company is handled directly and STRICTLY CONFIDENTIAL by the Broker
 No matter what - Yolo Realtor GA: Atlanta's 100 Percent Commission Agency! Is the place for you …If you think that you can make use of your heard earned commission dollars!
If you are ready to keep more of what is yours - Call us today and let's get the ball rolling!
YOLO = Seize The Day!
 Your time is NOW!!! Seize it!!!
---

---
JC Fagundes, Head Broker
EQUAL SERVICE TO ALL.
Residential. Commercial. Investments.
Ph: 404 801 4141

---
---