Sandy Springs Homes For Sale

Sandy Springs homes for sale: Your connection to daily updated list of homes for sale In Sandy Springs. Important links to Sandy Springs services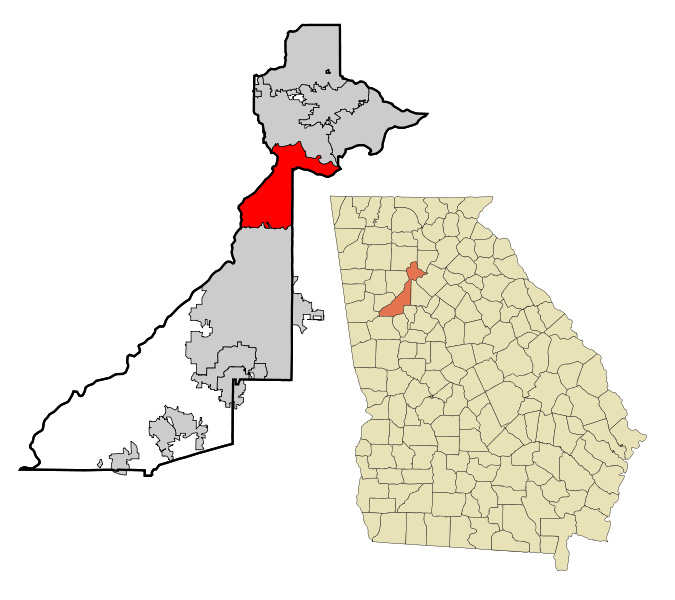 Highlighted areas are: orange is Fulton County within Georgia; then in red is Sandy Springs within Fulton co.

---
---
---

After decades long of thugs of war between the City of Atlanta wanting to "annex" Sandy Springs and the leaders and the citizens of this area wanting to "incorporate" it into cityhood, finally in the early 2000's the political landscape in Georgia changed in favor of the "unincorporated Sandy Springs"

Georgia legislature authorized a referendum which was held on June 21, 2005, and residents voted 94% to 6% in favor of incorporation

A mayor and six city council members were elected in early November 2005.

Eva Galambos, who – close to 30 years earlier - had initiated and led the charge for incorporation, was elected mayor by a wide margin.

Formal incorporation occurred on December 1st of that same year.

In 2010, the city became the first jurisdiction in Georgia to successfully "bail out" from the preclearance requirements of Section 5 of the Voting Rights Act.
Need help finding any Sandy Springs homes for sale? – No matter what type of home you are buying: single family homes, foreclosures, condos, townhomes and more - I can help -please click here
---
Business
Sandy Springs has a vibrant community of all sorts of businesses of the highest caliber
Sandy Springs has always had a "good vibe" to attract business to its fold.
Even before it became a city Fortune 500 companies were attracted to the area – the most notable perhaps is UPS that has its headquarters here.
Newell-Rubbermaid also has it head quarters in the city
There is a major hospital and medical hub in the heart of the city with reportedly billing over $3 billion a year
Chiefly among the Excellence.
Saint Joseph's Hospital of Atlanta
Saint Joseph's Hospital of Atlanta is a 410-bed and 750 physicians strong – it is recognized as one of the leading medical center in the southeast for many specialties.
St. Joseph's is also among the few hospitals around the world to receive Magnet Recognition for Nursing Excellence.
Saint Joseph's Hospital location:
5665 Peachtree Dunwoody Road, NE Sandy Springs, GA 30342
Ph: 678-843-7001
---
Scottish Rite Hospital

Scottish Rite Hospital has long been recognized as one of leading medical facilities for children and teens. Its recognition spreads ways beyond the city and the state - Children's reputation is indeed ranked among the best in the nation.
Scottish Rite location:
1001 Johnson Ferry Road NE Sandy Springs, GA 30342-1605
Ph: 404-785-5252
If your job or business is relocating you to Georgia and you are settling down in the north side of Metro Atlanta please click on the link below that I will promptly send a complete listing of the Sandy Springs homes for sale available right now - please click here

---
In The Movies – Sandy Springs has been location to many movies, TV shows (or some parts of it): "Coma," "Unnecessary Roughness," "Vampire Diaries," and "The Three Stooges" are but a few with features and shows that you might have seen some Sandy Springs footage.
---
Sandy Springs Attractions
Most of the happening around town are small comparing to events you might encounter elsewhere – however whatever they may lack in volume they more than make up for in "local favor" and accessibility to all family and being children friendly
The Sandy Springs Farmers Market is an open air market where friends and neighbors gather to share the experience a sense of community.
Open Every Saturday morning - between mid April and October 27th - 8:30 till noon - some 50 vendors, musicians, and local residents gather for a friendly shopping experience of locally and naturally grown produce, pasture-raised meat, farm fresh eggs, and all kinds of specialty food items.
Kids can join the fun around the market as well
Location: Sandy Springs Farmer's Market gather on the parking lot of the former Target store on the corner of Johnson Ferry an Sandy Springs circle - a short block from Roswell Rd.
To visit Sandy Springs Farmer's Market website - please click here

---
Sandy Springs Festival - has a lot of local favor and provides kids with many out of the routine things to do

Sandy Springs Heritage Museum – nothing fancy but it gives some perspective where the got its origins… Actually in the grounds behind this property there is a little spring that gave the name for the area which became Sandy Springs
All of these things and much more that I could not accommodate in this brief tour makes Sandy Springs one of the location to live and work. Feel to contact me if you need help on your Sandy Springs homes for sale search - please click here

---
Useful Sandy Springs Links And Info

Sandy Springs City Hall
Location: 7840 Roswell Road - Sandy Springs, GA 30350

Sandy Springs City Hall website – please click here

Police Department Headquarters
Location: 7840 Roswell Road - Sandy Springs, GA 30350
Public Hours: 9:00 a.m. - 5:00 p.m. Monday – Friday

Sandy Springs police website – please click here

Non-Emergency Phone: 770-551-6900

For Emergency Police Service Dial 911, 24 Hours a Day
Sandy Springs Citizen Response Center
770-730-5600
Answering calls 24 hours a day, seven days a week
Tweeter: To join Sandy Springs tweeter please click here
Sandy Springs – Newcomers Guide – please click here
---
All information here on this page about Sandy Springs Homes For Sale is deemed reliable but not warranted
---

---
JC Fagundes, Head Broker
EQUAL SERVICE TO ALL.
Residential. Commercial. Investments.
Ph: 404 801 4141

---
---
HomeBuyers-Hub
› Sandy Springs Homes For Sale